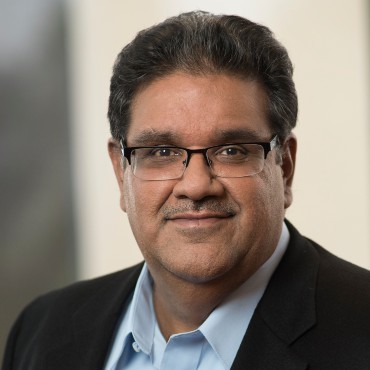 Dr. Murthy Renduchintala
Intel | Technical Panel
Dr. Murthy Renduchintala
Dr. Venkata (Murthy) M. Renduchintala is chief engineering officer and group president of the Technology, Systems Architecture and Client Group (TSCG) at Intel Corporation. His group brings together all of Intel's major technology, engineering and manufacturing functions. These functions encompass semiconductor process technology, manufacturing and operations, systems and product architecture, IP development, design and system-on-chip (SoC) engineering, software and security, and Intel Labs. Renduchintala's team is responsible for delivering the core technology and products that power the devices and infrastructure comprising Intel's data-centric world — from PCs and the cloud to telecommunications equipment and data centers.
Renduchintala also serves on the board of directors of Accenture PLC. Additionally, he serves on the engineering advisory councils of the Jacobs School of Engineering at the University of California, San Diego and the Fung Institute of Engineering Leadership at the University of California, Berkeley.
Renduchintala has spent a substantial part of his career in the SoC, mobile and internet of things areas. Prior to joining Intel, he was executive vice president of Qualcomm Technologies Inc. and co-president of Qualcomm CDMA Technologies, where he led its semiconductor business in the computing and mobile segments. He joined Qualcomm in 2004 from Skyworks Solutions Inc./Conexant Systems Inc., where he was vice president and general manager of the company's Cellular Systems Division. Prior to Skyworks, he spent a decade with Philips Electronics, where he progressed to become vice president of engineering for its consumer communications business.
Renduchintala holds a bachelor's degree in electrical engineering, a PhD in digital communications and a master's degree in business administration from the University of Bradford in England.