About The Summit
DARPA is proud to host the 2021 Electronics Resurgence Initiative (ERI) Summit & MTO Symposium, scheduled for October 19-21, 2021. To ensure the health and safety of attendees, personnel, partners, and performers, the 2021 Summit will be hosted on an immersive and entirely virtual platform with built-in features for live presentations, online interaction, exhibits, and networking.
The 2021 ERI Summit & MTO Symposium will spotlight technical progress made across ERI's six major themes, which include: mitigating the skyrocketing costs of electronic design; overcoming security threats across the entire hardware lifecycle; accelerating innovation in AI hardware to make faster decisions at the edge; increasing information processing density and efficiency; overcoming the inherent throughput limits of 2D electronics; and revolutionizing communications in the 5G era and beyond. Attendees will hear from DARPA researchers as they present and demonstrate their technical progress as well as possible paths to transition for commercial and defense use.
The event will also provide insights into potential future research directions MTO plans to pursue, focused on continued investment in novel technologies to augment or supplant silicon CMOS as well as the creation of new efforts to support the development and advancement of microelectronics prototyping and on-shore manufacturing capabilities.
Virtual Platform
The 2021 Summit will be hosted on vFairs' immersive virtual conference platform. The virtual platform provides a 3D event space that recreates the feel of a physical event. Through the virtual event space, attendees will be able to watch live presentations, explore posters and technology demonstrations, and network with other ERI attendees and performers.
The 2021 Summit fireside chats, panel session, and invited speaker sessions – featuring industry leaders and government partners – will be broadcast in the virtual auditorium. Recorded sessions will be available to view the following day.
The networking lounge will bring together conference attendees in an interactive chat room and provide the opportunity to have 1:1 conversations, small group chats, and moderated discussions. Attendees will be able to view posters and technology demonstrations in the exhibit hall and engage with DARPA performers via text/audio/video chat in real time. Interacting with performers can happen in a video group chat or through at 1:1 video chat.
Workshops will be held utilizing ZoomGov Meetings and foster an environment for idea sharing, discussions, and the formation of future program concepts and research efforts.
vFairs will provide attendees with technical support during the Summit to answer questions and assist with platform navigation.
Lobby Example (Courtesy of vFairs)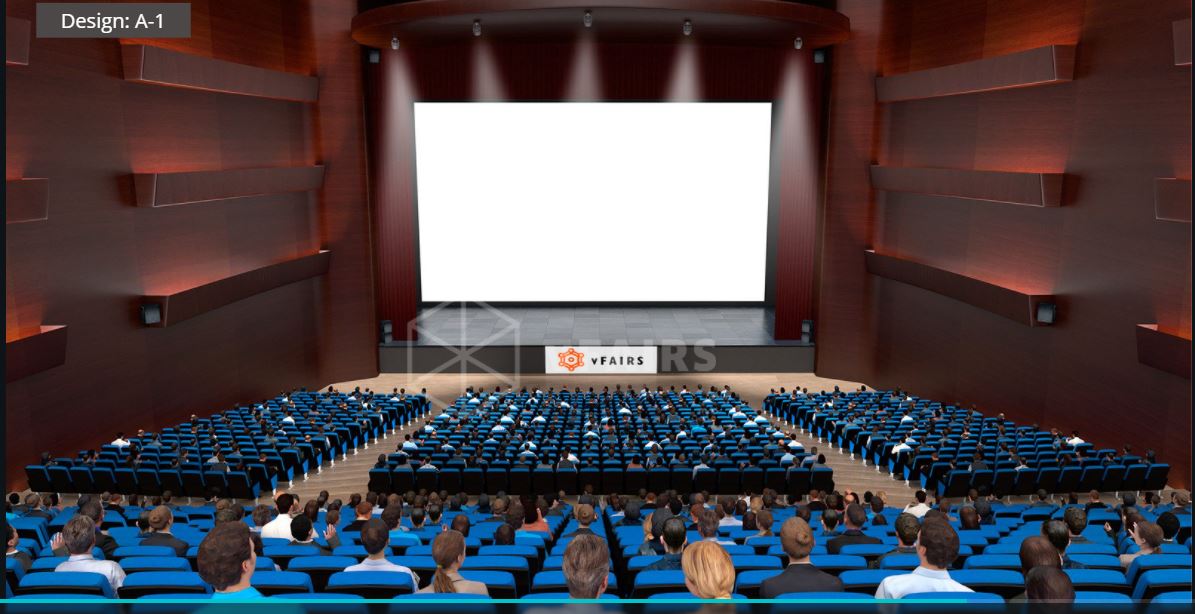 Auditorium Example (Courtesy of vFairs)
Exhibition Hall Example (Courtesy of vFairs)